What is the digital asset lifecycle?
Understanding the lifecycle of digital assets is essential to understanding why a Digital Asset Management system is important for most companies and organizations.
We've identified these five phases of the digital asset lifecycle:
---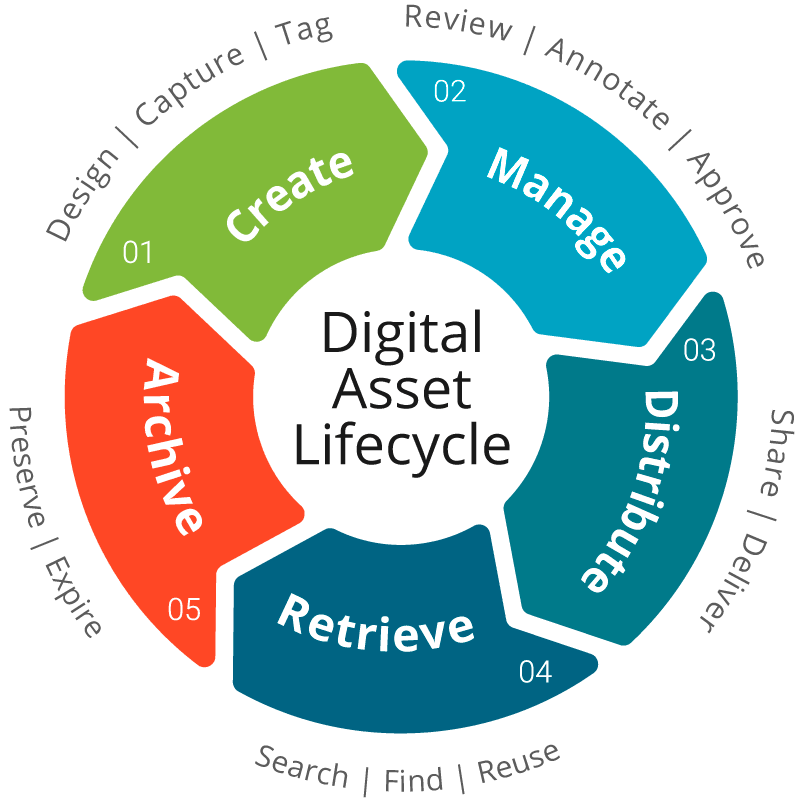 ---
0.1 Create
Creating quality digital assets take the time and effort of multiple people. Your files are only assets if you can efficiently use them. A DAM system, like Filecamp, enables multiple users to view, download and manage your digital assets.
0.2 Manage
Input and approvals are required at many junctures in the digital asset lifecycle. You can review, annotate, approve your digital assets so that all assets are approved and up to date.
0.3 Distribute
Providing the right kind of access is a big part of managing digital assets. A good DAM system allows roles and permissions to be assigned to users so that they see only what you want them to see. Most DAM systems also allow you to send download links to non-users to easily access specific files and folders.
Most companies are sitting on a goldmine of images, stock photos, videos and other creative assets. A DAM solution helps you reap all their benefits by making them easy to organize, share and distribute.
0.4 Retrieve
Don't waste valuable time hunting for files. Find files fast. Filecamp's powerful search engine gives you a full range of options to refine results and locate the exact files you need in seconds. Again, your users see only what you want them to see.
0.5 Archive
How long an asset remains in distribution depends on the asset. Preservation or archiving, an asset and related document and versions is a key part of the lifecycle.
Digital assets are any form of a digital file. Common digital assets include images, documents, photos, presentations and videos. Digital Asset Management software (DAM) is primarily used by enterprise marketing and creative teams, so it is necessary for DAM software to accommodate a broad spectrum of creative files.